Proof that J Casablancas is still alive - OK, US
Vogue
published a letter supposedly written by him, but it could have been any of a number or celeb impersonators - I guess his PR people have more important business...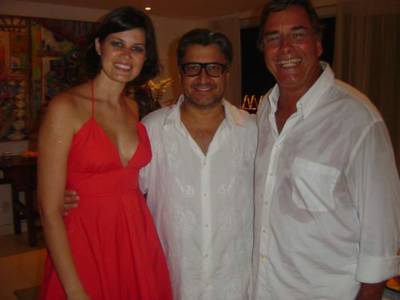 The lady in the pic is Aline Wermelinger, the (then) 17 yo Brazilian
Elite
Look contestant whom JC married in 1993, allegedly while she was still a virgin - I think the pic was taken in JC's place in Leblon, Rio, where he threw a party, as dk mentioned...
Last time JC was in the news, he was planning to publish a "tell-all" book - then a San Diegoan accused him of impregnating her a long time ago, etc etc
The other interesting factoid is that Yfke Sturm is also in Rio - last time anyone published anything about fellow maturing playboy Gerald Marie, GM was talking about whichever piece of
Elite Models
he still controls and the fact that he had great models like Yfke...maybe there is a connection here?
I met Yfke back when she was discovered (she was the Model Look winner in 1997) and despite the onslaught of the "high fashion" trash brigade -about which I'd rather not talk about, since I am still in festive mood - Yfke proves that quality never goes out of style...
They only reason we are all discussing models today is the 90s "supermodel" phenomenon - not just the original "trinity" (Linda E, Naomi C and Christy T) which is what fashion folks keep talking about, but all the top models who emerged when fashion modelling became newsworthy worldwide. I've said before that IMO, the "supermodel" was an agency-driven product - the fashion biz was clueless as usual, and the designers, stylists etc would gladly have accepted any trash, if it came with the "model of the season" tag attached. The model agency bosses at the time chose to push a high quality product - the top models would be tall, shapely, perfect and almost unreal. The purpose was to maximize their mass appeal, since the real money was to be made outside the women's fashion biz. J Casablancas was instrumental in all this, and pretty much adheared to the "classic/drop dead gorgeous beauty" principle until he sold his
Elite
stake and left NYC. It was the smart thing to do, since quality is what differentiates the top dogs from the wannabees - "contemporary elegance" and all that Wintour/Donatella/Lagerfeld crap only sells to a niche market (the "It girl" market was wiped out after the Wall St crash, a year before 9/11) and the nouveau riche. The fact that most big
Vogue
advertisers who signed on to the "new luxury" scheme have been losing money for the past 5+ years has less to do with 9/11, SARS or any other "disaster" and more with their advertising.
Not that JC didn't make mistakes - he allowed his own leading market position to be diluted by promoting inferior models (Amber V and Co were on the way out before AW/Meisel resurrected their careers, but
Elite
should never have signed the likes of Karen Elson or Erin OC) and failed to push the Eastern Europeans and the Brazilians early enough - the usual ignorami in NYC knew almost nothing about Russian models before Natalia Vodianova (who couldn't even get a job in Moscow) arrived in 2002, and that was a huge failure on
Elite's
part, with the model material they had from their contests since 1995. When the Brazilian wave hit,
Elite
and
Ford
found that their top Brazilians had moved to
Marilyn
,
IMG
etc - and they could do little with the mods still left with them. The bottom line is that when the trash crowd established itself, mediocrity became the rule and the game was lost - if JC had spoken out against AW's plans while there was still time, it may not have happened.