Russian Models update
Bulgarian Mariya Runyova
What's up with Russian/Ukrainian mods?
There are quite a few arriving in NYC lately - certainly a big change, considering that local "professionals" were quoted in certain hip NYC mags only a few years ago expressing their disbelief re the existence of Russian fashion models. The pros in Milan and Paris know otherwise - since 1994 or so - but since NYC rules the modelling game, we need to look at who is doing what there...
Valentina Zelyaeva got
Ralph Lauren
and
CK
campaigns and certainly established herself before even giving the locals a chance to admire her catwalk skills - I actually met Valya back in July 2000 in a model contest in Moscow, but I admit that my attention was focused elsewhere...anyway, she married a Brazilian club/music promoter at some point, worked a lot in Japan and Brazil, and was quite visible in the last SPFW shows (as Valentina Eva)
Natasha Poly (Pola? Polevshchikova?) was doing the "Chanel Tour" along with other little-known models in Japan a few months ago, some Russians who were there can't figure out why she was singled out for high fashion success - looks like another random hipster selection.
She had been with Parisian agency
Success
for some time - the agency's glam blondes certainly demand more attention.
Volodina's bfriend/booker managed to get Polina Kouklina to NYC, even it it took over a year - she signed with
Trump
Models, and the hype machine will certainly be behind her.
Lena Pervykh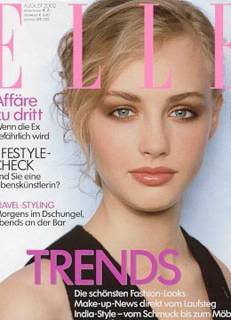 Eugenia Volodina herself remains the NYC biz beauty ideal - all I can say is that other Russian mods who know her well, didn't recognise her in the last two campaigns she did, for
Dior
and
Fendi
- make whatever you want of it. I was never really crazy about Volodina, since her face is so-so by Russian standards and her butt is massive (93cm, bigger than Daniela Sarahyba - is
IMG
going to do something with her?) especially when compared to her 81 cm chest, resulting in a pyramidal body shape (81-63-93, 1m81 tall) - still, it seems that it is exactly what the NYC pros want, they are certainly drooling over her...
The CK people botched their biggest chance in 15 years - Natalia Vodianova. They even made the mistake or replacing Sorrenti with Meisel, who is simply incapable of conveying the sensual Lolitaesque look that is Natalia's trademark.
Too bad for them - Natalia has her rich hubby,
L'Oreal
is pushing her, so she couldn't care less.
In the
DNA
Models site you'll notice a "Masha" - that's Masha Novosselova, they predictably chose a really shitty pic which makes her look like a cross between Kate Moss and Karen Elson, when she looks more like a high quality Susan Eldridge. London dwellers can get a good look at her - she is the mod in the huge posters hanging in the windows at Selfridges. Some people at
H Bazaar
like her a lot. Good prospect, when she finally arrives in NYC.
I think Marleen Berkova has the right look for this season - still waiting to see if they are going to do something with Vika Sementsova. I see that Tanya Kovylina is no longer with them.
Why
Ford
Models sends scouts to the ex-USSR always intrigued me - they never promoted any of their finds, even their Ukrainian "Supermodel" contest winner has gone AWOL. I guees their local market is more into Fanni Bostrum types - too bad An Oost isn't selling any more. A total mess!!!
As for
Elite/One Models
- better leave that aside.
A really impressive girl who needs to be "discovered" is Mariya Runyova - Bulgarian I think, with
WhyNot
in Milan. A quality face - for those who can tell the difference - is Russian Nastya Ivanova, with the same agency. Lena Pervykh has left a certain agent speechelss, but little news from her, despite German
Elle
and
Vogue
Espana Novias covers - at 1m80 tall, a far better model than Volodina. Olga Otrokhova should get her big chance one day. And there are many more...